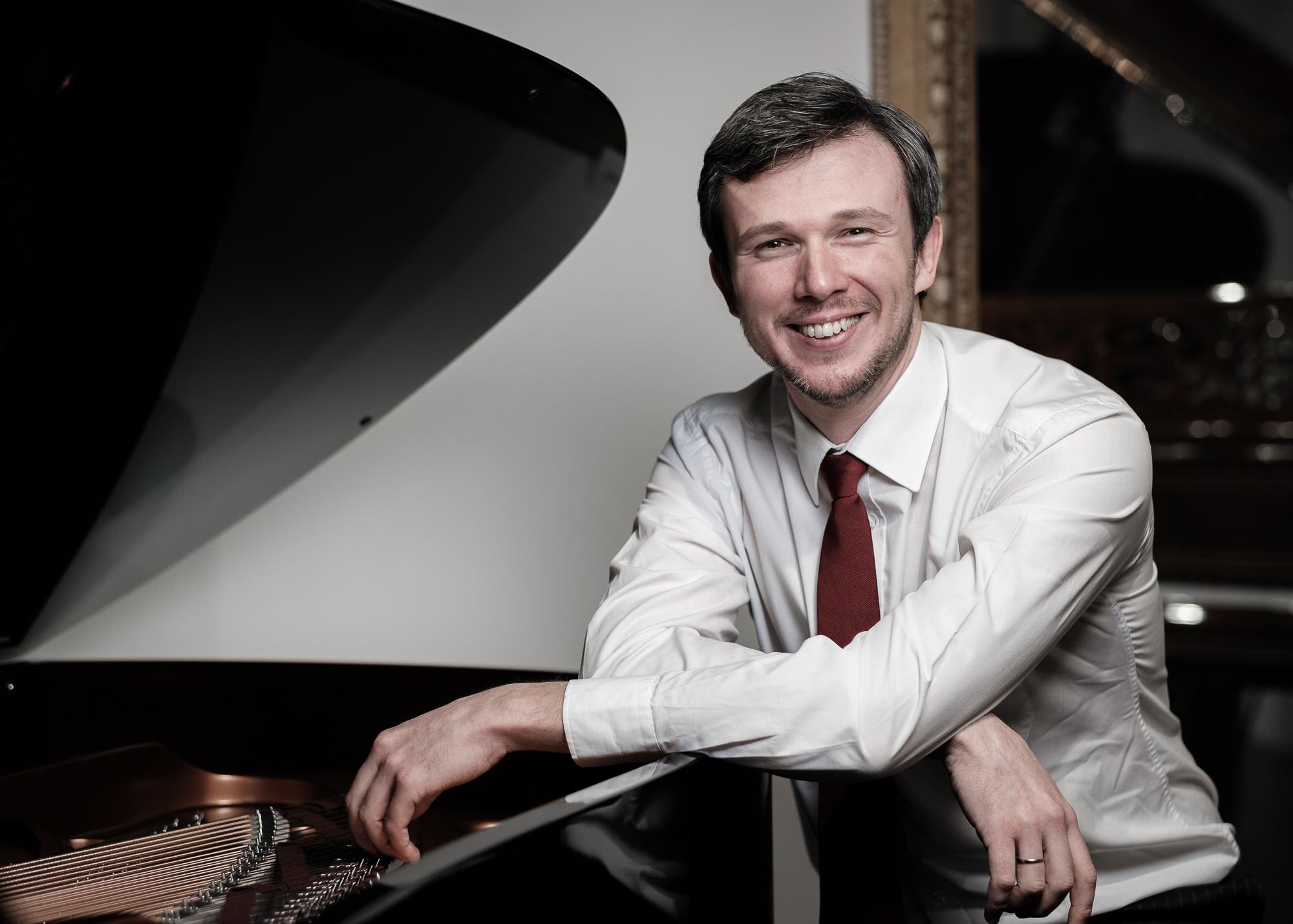 Welcome to Alexander Karpeyev's website
[on Medtner's Sonata Epica] Karpeyev is en pointe … taking what is a dizzyingly agile part in his stride — Michael Beek, BBC Music magazine, 2023
[on Medtner's Sonate-Idylle] Karpeyev makes the whole movement sparkle with joie de vivre and a playfulness which belies the virtuosic demands.  [He] … responds brilliantly to the kaleidoscopic mood swings but also perceives how they form an absolutely coherent whole — Claire Seymour, Opera Today, 2023
[on Medtner's Sonata Epica] With its ideal balance between the two instruments … Lomeiko's [and Karpeyev's] interpretation offers a very noteworthy way to enjoy this excellent sonata — Uwe Krusch pizzicato.lu, 2023
A parallel with Rachmaninov that does stand is the frequently fiendhish piano-writing and Medtner scholar and enthusiast Alexander Karpeyev is equal to task, with some wonderfully tempestuous playing in works such as 'Arion' or the virtuoso piano part of 'Elegy', regarded as one of Medtner's finest songs — Mark Pullinger, Gramophone, 2021
… a rewarding addition to a still unaccountably under-populated discography — Paul Riley, BBC Music Magazine, 2021
… at home in Medtner's style — www.planethugill.com, 2021
… this release is indeed a solid effort and one worth adding to any song enthusiast's collection — Azusa Ueno, The Classic Review, 2021
Karpeyev['s] … playing that was no less expert and glittering for being self-effacing — Jessica Duchen, The Arts Desk, 2021
Sound and notes are superb — Becker, American Record Guide, 2020
Both [Parry's Prelude and Thomson's Nineteen Portraits] show Karpeyev to be deft at switching idioms and good at immediately establishing a specific atmosphere. … [Arnold's Variations'] mercurial mood switches again draw sharp responses from Karpeyev , veering from light-spun filigree to muscle-flexing virtuosity. … a recital which is eminently worth investigating — ★★★★★ Terry Blain, BBC Music Magazine, 2019
Karpeyev is a major artist in what is clearly a labour of love — Limelight Magazine, Australia, 2019
Karpeyev's reading [of Alkan's Concerto] … had the measure of the piece: the epic heroism of music so difficult that not many pianists could deliver it exactly as written — Michael White, Catholic Herald, 2019
[Karpeyev] bravely rushed to conquer the cyclopean opus [Alkan's Concerto] and shocked the public with a heap of passages, acrobatic jumps in left hand, endless contrasts of lyrical and excited episodes. … Karpeev's courage earned him a standing ovation — Evgeniya Krivitskaya, Musical Life, 2019
[on performance of Alkan's Concerto] It was too late: an already transfixed audience delivered their verdict with a standing ovation — James Latt, International Piano Magazine, 2018
This was a first rate recital from a pianist who has not featured nearly enough on our concert platforms — Robert Beattie, Seen and Heard International, 2017
…it was in epic scores by Medtner (the Sonata-Ballade) and Stravinsky (movements from Petroushka) that Karpeyev really triumphed, playing them with virtuosity and more: the deep, internalised musicianship of a master — Michael White, Catholic Herald, 2017
Karpeyev's penetration of the [Medtner's] unique harmonic language and architecture was fully authoritative. … The encore, Medtner's Novella Op.17 No.1, was a further reminder of Karpeyev's sensitivity and ear for nuance — Mark Ainley, Vancouver Classical Music, 2017
Medtner['s Sonate-Ballade] and Prélude and Lullaby by Alexander Grechaninov [were] both with great skill and sovereignty. Zenaida des Aubris, O-Ton magazine, 2017
November 2021
Alexander's article on Medtner's Second Concerto was published as part of the Nikolai Medtner: Music, Aesthetics, and Contexts by the prestigious

Olms Verlag.
September 2021
Alexander was featured in Channel4's 'Great Canal Journeys' playing a short excerpt from Medtner's Third Piano Concerto. Watch Series 13 Episode 3.
August 2021
'We didn't start the fire' — together with 

Katie Puckrik and Tom Fordyce 

Alexander has recorded a history podcast about Sergey Prokofiev. Listen on Apple Podcasts or Spotify.
May 2021
Alexander's and Sofia Fomina's CD of Medtner songs received a 5 stars review from the Independent ⭐⭐⭐⭐⭐

.
April 2021
Alexander recorded a recital on the 1879 Becker piano, part of the Cobbe Collection (Surrey). Watch the concert

.
February 2021
'A fine recital indeed, and a sign that justice is being done to this composer's songs at last', 'a rewarding addition to a still unaccountably under-populated discography', 

'…

 wonderfully tempestuous playing …'

— reviews have been published on Alexander's and Sofia Fomina's CD of Medtner songs on 

Robert Hugill's blog

, in the 

BBC Music Magazine

,

the Classic Review

, and the

Gramophone

.
January 2021

The programme of the 2021 Pushkin House online Music Festival, of which Alexander is the Artistic Director have been announced! Rarely-performed chamber music masterpieces of Alyabyev, Glinka and Medtner; UK premieres of Genishta and Kapustin's cello sonatas;  excellent performers, exclusive talks. For details and booking visit Pushkin House web-site.
January 2021

Alexander took part in BBC Radio3 'In Tune' show with Katie Derham, chatting about the new Medtner CD.
 Alexander delivered a lecture on NIkolay Medtner for the MuzeWest concert society of Vancouver
   Alexander created numerous playlists of Russian classical music and recorded music by rare Russian composers for the Pushkin House's Youtube Channel
February 2020

The inaugural Pushkin House Music Festival, of which Alexander is the Artistic Director, was a huge success. Alexander performed Medtner's Second Concerto with the Young Musicians Symphony Orchestra to a standing ovation at the opening concert, delivered the world premiere of Leokadiya Kashperova's songs with soprano Betty Makharinsky and accompanied Lydia Kavina at the Theremin concert. Videos from the 'Rarities of Russian vocal music' concert are available at Pushkin House's Youtube Channel.
Alexander's recording of Stanford's 'Reel' (arr. Grainger) was included in the BBC Music Magazine's Playlist.
Alexander's CD 'Composers at the Savile Club' was named Album of the Week by KUSC and KDFC Californian radio stations. The CD got favourable reviews in MusicWeb International, Limelight, American Recorded Sound and BBC Music Magazines!
Alexander's CD 'Composers at the Savile Club' was in the Spotify's Classical new Release picks playlist, Primephonic's top new release picks and is a featured new release at Apple Music! Order a copy at the SOMM Recordings web-site now!
Alexander delivered a première of Chopin's F minor Concerto in Algeria with Maestro Amine Kouider conducting
Alexander has signed a contract with Chandos Records for the release of twenty two Medtner's songs with Sofia Fomina
Alexander's debut CD 'Russian Emigre Composers' received rave reviews in Musical Opinion, International Piano and MusicWeb magazines. Listen to it on Spotify, Apple Music, Google Play or buy here!
Alexander took part in the international conference 'Russian Heritage in the UK' in London. He read a paper on Medtner's life in London
Alexander is  'One to Watch' at the International Piano magazine Jan-Feb 2018 issue
Alexander has organised and curated Second International Medtner Festival. To see photos and read more visit Medtneriana part of this web-site
Alexander recorded the 'Final Flowering', a debut CD dedicated to Russian émigré composers. The CD will be released on Claudio Records in June 2018
Performed at the En Blanc en Noir festival in France.
Delivered a UK premiere of songs by Nikolay Golovanov in London with Igor Golovatenko. Here is a short review (in Russian)
Delivered a lecture-recital  as part of the 36th Rachmaninov International Festival in Tambov (Russia). 
Performed at London's Kings Place to a critical acclaim. Reviews appreared in Seen and Heard International and Catholic Herald magazines
Performed for the Müzewest Series in Vancouver
Gave an interview for Seen and Heard International
Took part at the Piano Week International Festival
Performed at the Cobb Collection Series, Hatchlands
Appointed Music Curator at the Pushkin House in London
Performed in Germany and U.S.A
Performed the Rachmaninov Second Piano Concerto with the Amadeus Orchestra at the Cadogan Hall, London
Artistic director of a three-day Medtnerfest in London at the Royal College of Music, British Library and Pushkin House with the kind support for an International Study Day from the Royal Musical Association