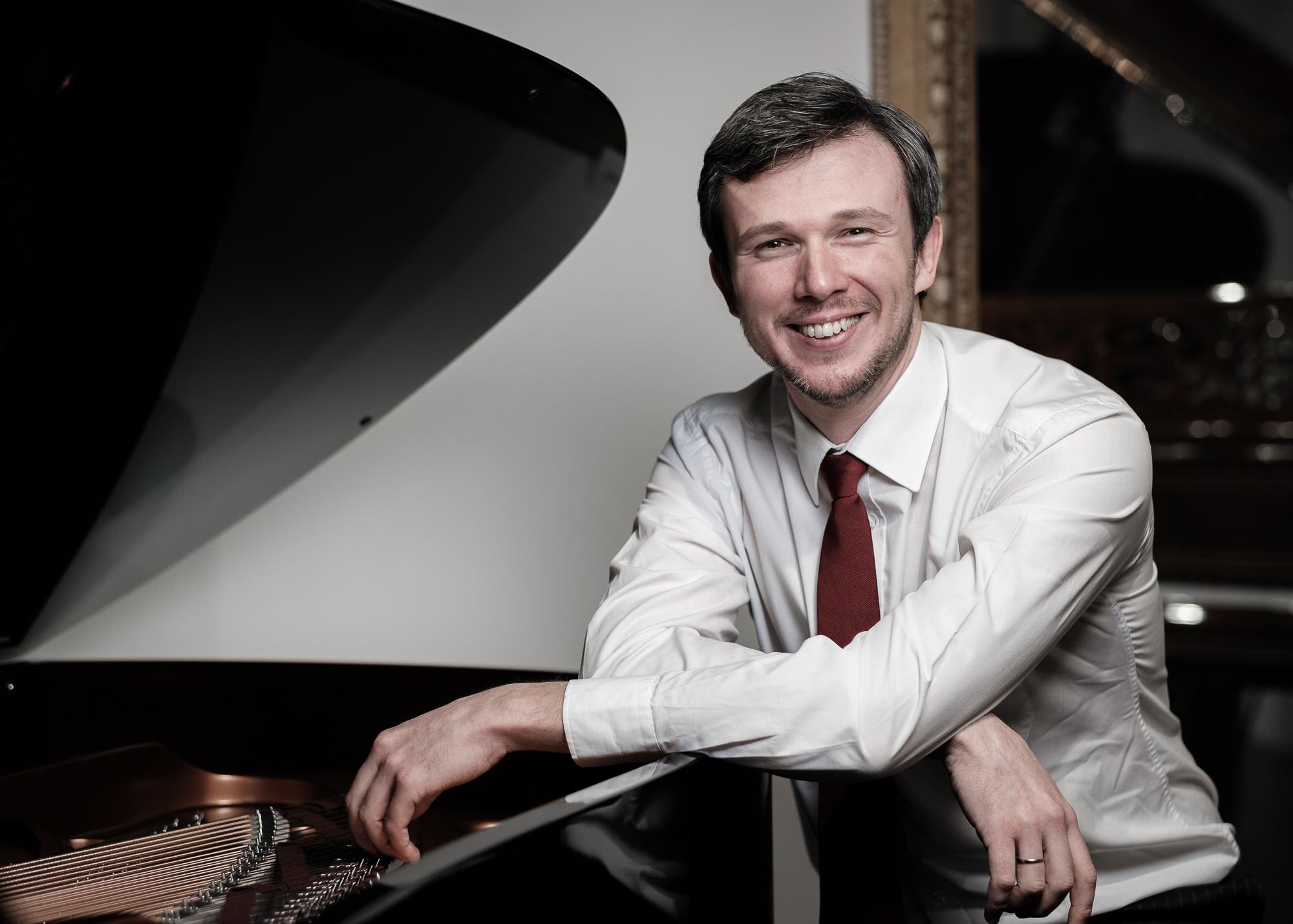 Welcome to Alexander Karpeyev's website
'Sound and notes are superb'
Becker, American Record Guide (2020)
'Both [Parry's Prelude and Thomson's Nineteen Portraits] show Karpeyev to be deft at switching idioms and good at immediately establishing a specific atmosphere. … [Arnold's Variations'] mercurial mood switches again draw sharp responses from Karpeyev , veering from light-spun filigree to muscle-flexing virtuosity. … a recital which is eminently worth investigating'. ★★★★★
Terry Blain, BBC Music Magazine (2019)
'Karpeyev is a major artist in what is clearly a labour of love.'
Limelight Magazine, Australia (2019)
'Karpeyev's reading [of Alkan's Concerto] … had the measure of the piece: the epic heroism of music so difficult that not many pianists could deliver it exactly as written.'
Michael White, Catholic Herald (2019)
'[Karpeyev] bravely rushed to conquer the cyclopean opus [Alkan's Concerto] and shocked the public with a heap of passages, acrobatic jumps in left hand, endless contrasts of lyrical and excited episodes. … Karpeev's courage earned him a standing ovation.'
Evgeniya Krivitskaya, Musical Life (2019)
[on performance of Alkan's Concerto] 'It was too late: an already transfixed audience delivered their verdict with a standing ovation'
James Latt, International Piano Magazine (No. 51, Sep/Oct 2018)
'This was a first rate recital from a pianist who has not featured nearly enough on our concert platforms.'
Robert Beattie, Seen and Heard International (2017)
'…it was in epic scores by Medtner (the Sonata-Ballade) and Stravinsky (movements from Petroushka) that Karpeyev really triumphed, playing them with virtuosity and more: the deep, internalised musicianship of a master.'
Michael White, Catholic Herald (2017)
'Karpeyev's penetration of the [Medtner's] unique harmonic language and architecture was fully authoritative. … The encore, Medtner's Novella Op.17 No.1, was a further reminder of Karpeyev's sensitivity and ear for nuance.'
Mark Ainley, Vancouver Classical Music (2017)
'Medtner['s Sonate-Ballade] and Prélude and Lullaby by Alexander Grechaninov [were] both with great skill and sovereignty.
Zenaida des Aubris, O-Ton magazine (2017)
'A truly brilliant recital. … Karpeyev delivered both power and delicate subtleties of dynamics and pace throughout his taxing programme. What style, what stamina!'
Andrew Connal, Latest 7 (2011)
Karpeyev's artistic maturity was palpable, and it shone through every bar of his closing item – a commanding performance of Liszt's B minor Sonata.'
Richard Bratby, The Birmingham Post (2007)
January 2021

The programme of the 2021 Pushkin House online Music Festival will be announced soon! Rarely-performed chamber music masterpieces of Alyabyev, Glinka and Medtner; UK premieres of Genishta and Kapustin's cello sonatas;  excellent performers, exclusive talks… Stay tuned: www.pushkinhouse.org
Alexander's CD of Medtner's songs, recorded together with soprano Sofia Fomina has been released by Chandos Records. Order a copy here!
Alexander created numerous playlists of Russian classical music and recorded music by rare Russian composers for the Pushkin House's Youtube Channel
February 2020

The inaugural Pushkin House Music Festival, of which Alexander is the Artistic Director, was a huge success. Alexander played Medtner's Second Concerto to a standing ovation at the opening concert, delivered world premiere of Leokadiya Kashperova's songs with soprano Betty Makharinsky and accompanied Lydia Kavina at the Theremin concert. Videos from the 'Rarities of Russian vocal music' concert are available at Pushkin House's Youtube Channel
Alexander's recording of Stanford's 'Reel' (arr. Grainger) was included in the BBC Music Magazine's Playlist
Alexander's CD 'Composers at the Savile Club' was named Album of the Week by KUSC and KDFC Californian radio stations. The CD got favourable reviews at MusicWeb International, Limelight, American Recorded Sound and BBC Music Magazines!
Alexander's CD 'Composers at the Savile Club' was in the Spotify's Classical new Release picks playlist, Primephonic's top new release picks and is a featured new release at Apple Music! Order a copy at the SOMM Recordings web-site now!
Alexander delivered a première of  Chopin's F minor Concerto in Algeria with Maestro Amine Kouider conducting
Alexander will perform Medtner's Second Concerto at St John's Smith Square in 2020
Alexander has signed a contract with Chandos Records for the release of twenty two Medtner's songs with Sofia Fomina
Alexander's debut CD 'Russian Emigre Composers' received rave reviews in Musical Opinion, International Piano and MusicWeb magazines. Listen to it on Spotify, Apple Music, Google Play or buy here!
Alexander took part in the international conference 'Russian Heritage in the UK' in London. He read a paper on Medtner's life in London
Alexander is  'One to Watch' at the International Piano magazine Jan-Feb 2018 issue
Alexander has organised and curated Second International Medtner Festival. To see photos and read more visit www.MedtnerFest.co.uk
Alexander recorded the 'Final Flowering', a debut CD dedicated to Russian émigré composers. The CD will be released on Claudio Records in June 2018
Performed at the En Blanc en Noir festival in France.
Delivered a UK premiere of songs by Nikolay Golovanov in London with Igor Golovatenko. Here is a short review (in Russian)
Delivered a lecture-recital  as part of the 36th Rachmaninov International Festival in Tambov (Russia). 
Performed at London's Kings Place to a critical acclaim. Reviews appreared in Seen and Heard International and Catholic Herald magazines
Performed for the Müzewest Series in Vancouver. Review appeared at vanclassicalmusic.com
Gave an interview for Seen and Heard International
Took part at the Piano Week International Festival
Performed at the Cobb Collection Series, Hatchlands, East Clandon
Appointed Music Curator at the Pushkin House in London
Performed in Germany, U.S.A
Performed the Rachmaninov Second Piano Concerto with the Amadeus Orchestra at the Cadogan Hall, London
Artistic director of a three-day Medtnerfest in London at the Royal College of Music, British Library and Pushkin House with the kind support for an International Study Day from the Royal Musical Association